Industrial design that had been developed to improve the quality of users' lives is gradually degenerating into a means of marketing for companies as of recently. Thus, design is ironically making our environment more complicated little by little. Numerous companies desire to make their newly released products stand out more than previous ones in terms of visuals to draw more attention from consumers. This leads to adding unnecessary decorations and shapes during design, thereby causing visual discomfort. In the end, this also becomes the reason for throwing away things easily as users get jaded with such overly stimulating design as time passes by.
Article>
In collaboration with Jung Jae hoon@Fuseproject
This project is by refraining from making visually conspicuous daily items and pondering over how they can be naturally hidden and blended in with the surrounding environment. Through simplifying forms to the max by removing inessential adornment as much as possible or using the way of fully replicating the figures of nearby objects, "Hidden Objects" can be concealed in the surroundings when they are not being used. These present the possibility of using things longer by providing less visual stimulation with their product design.
01 Leaning Scale
Many people who don't often use a scale lay it against the wall to save space when they're not using it. The Leaning Scale has been designed with a proportion similar to a picture frame, and a linear pattern has been applied to the top plate, which has been designed to be seen as a picture frame exhibited like artwork for the home interior when rested against the wall. There is a handle on the back of the scale to make it easy to lean it against the wall. Plus, the LCD has been removed from the top plate to further hide its identity as a scale, and the weight information can be checked on paired mobile devices like a smartphone or watch every time you get on the scale.
02 Stick Remote Control

Having a shape combining two round bars, the form of this remote control has been simplified at most as per the size of the remote control progressed so far, and interestingly enough, this simplification enabled it to hide itself. This remote control can be turned over or made to stand when not in use, which allows the buttons to be concealed that it's hard for anyone to notice that it's a remote control at a short glance, and it's seen as a design object for decorating the home. In addition, we also emphasized the hiding effect all the way by attempting to use materials, such as ceramic or wood, apart from ordinary plastic.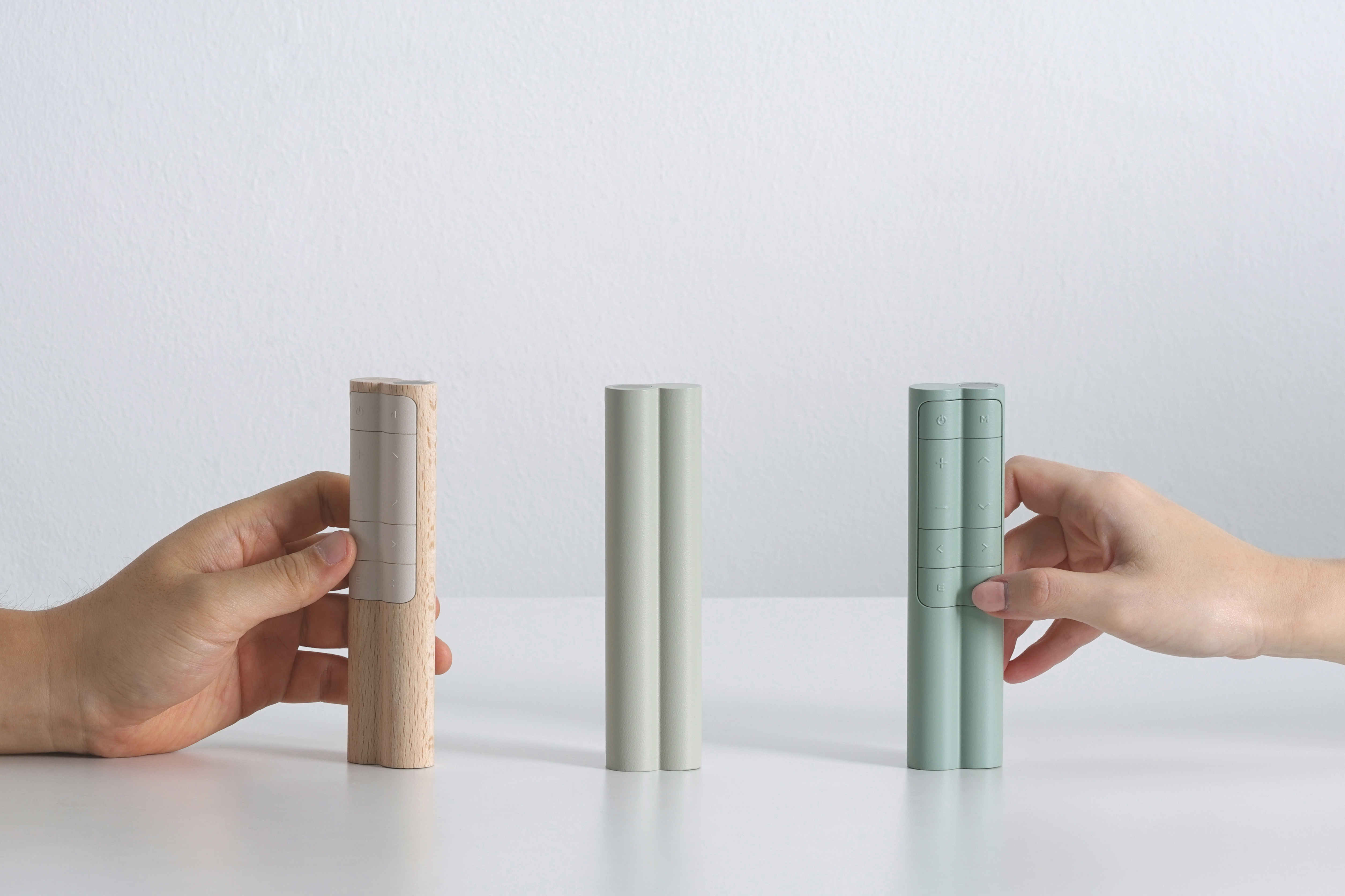 03 Bowl Kitchen Scale

This kitchen scale replicates the shape of a bowl that always exists around us. Hence, it doesn't cause any visual discomfort even when placed with other bowls in the cabinet. Imitating the shape of such bowls, this scale comes with many benefits. Just like other bowls, the upper part of this scale is concave, which makes it very convenient to measure ingredients like powder or liquid by containing them without flowing over. Moreover, such a concave form is good for utilizing space as it can be stacked on top of other bowls for storage or drying when not in use. The display has been removed to maintain waterproofing and a minimal scale form, and the weight information is indicated via the connected smart home devices such as Amazon Alexa or Google Smart Home during use.







04 Pebble Tray

This tray has the ideal size for putting things that are easy to lose, including keys or accessories. When you close the lid of this tray, it can neatly cover the items stored in the tray. Also, the closed tray transforms into a shape resembling a pebble on the beach, perfectly hiding itself within the surroundings that no one could assume that it is a tray from any angle.